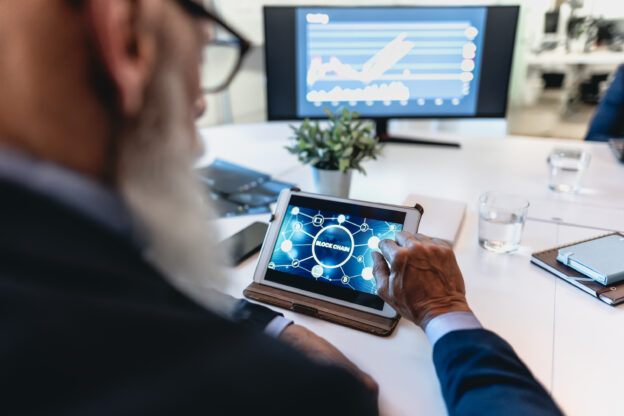 Blockchain Foundations
Educate and empower yourself to confidently advise your career, clients, and colleagues about digital asset technologies.
The Blockchain Foundations course introduces the world of blockchain, bitcoin, and distributed ledgers. You will learn the basics, look at how blockchain works, explore Bitcoin, review blockchain's brief and fascinating history, and show you the practical usage of this technology. The objective of the course is to provide a solid foundation for those looking to gain a deeper understanding and learn how it will affect nearly all business areas. With a firm focus on, but not entirely limited to, the finance industry, we will look at use cases already in the market and emerging use cases to alter how we operate businesses and safeguard our personal information.
Questions We'll Explore:
How does blockchain work?
What is mining and hashing?
Do digital wallets differ in their capabilities?
How will smart contracts change how we operate?
What are the nuances with Private vs. Public vs. Hybrid and Permissioned vs. Permissionless blockchains?
What are the different types of consensus, and how does the consensus mechanism differ from protocol to protocol?
Courses in this Certificate Program
6 Total Hours
OnDemand: 6 Hours
Optional Live: 2+ Hours
Tuition: $99
Upcoming LIVE Instruction Dates
There are no upcoming events.
Blockchain Foundations Program Objectives
Upon successful completion of this intensive program, participants will be able to:
Explore the origins of blockchain and understand how the technology will disrupt many industries
Position your mindset to the web3 way of operating online;
Comprehend and articulate blockchain applications, or DApps (decentralized applications);
Course and tuition credit towards advanced blockchain Certification tracks.
Certificate of Completion – Blockchain Foundations – 6 Hours
35% Focus Area Certification Exam Competencies for:
Web3 Foundations Level 1 Certification
Certifying Body: Web3 Certification Board (W3CB)
Share your digital badge with employers, clients, investors, and team members.
Prerequisites
No prior blockchain or computer programming experience is required. A 10th-grade reading and math proficiency is recommended.
Target Audience
Anyone interested in learning about Web3, blockchain, and distributed ledger technology.
Program Info
Dates: Rolling Enrollment

Location: OnDemand & LIVE Online

Tuition: $99

Tuition Assistance

6 Total Hours
Enroll Now
Additional Information
Module Quizzes and Knowledge Checks
Guest Lectures & Networking
Student Orientation
LIVE Online Instructor AMAs
Certification Exam Prep
Certification Competencies
The material covered in this course contributes to 35% of the Focus Areas as defined in the Web3 Certification Association (W3CB) Web3 Foundations Level 1 Certification Exam Competencies.
Review all W3CB Focus Areas – Web3 Foundations Certification Exam.
Certification Tracks
This Course is included in the following Certification Career Tracks:
Includes:
AI Essentials
Web3 Foundations
Blockchain Foundations
Blockchain & Bitcoin Intensive
Exam Voucher: W3CB Web3 Foundations Level 1 Certification Exam (v2023) Voucher.
All Courses & Programs